This Birmingham dog daycare/residence garnered a 2011 Alabama Chapter AIA Renovation Adaptive Reuse Merit Awardfor Michael Gibson and Appleseed Workshop. The daycare operates on the first floor and mezzanine with insulated walls and glass so owners can observe their dogs but noise is minimized. The outdoor play area is on the roof. Dog Day's owner resides on the second floor in a two-bedroom, two-bath apartment with heart pine floors and vintage Wise-ola Cola mural
Dog Days of Birmingham is celebrating its 7th year anniversary on Friday, September 15th, 2017
Dog Days of Birmingham is Birmingham's Premier Doggie Day Care, Boarding, Grooming and Retail facility. One of the unique things about Dog Days of Birmingham is the owners live in the facility also!  Jimmy and Sue Johnson purchased the Hunter Furniture Store when Mr. Hunter decided to retire. The building was renovated to house Dog Days of Birmingham and provide a loft for Jimmy and Sue. The facility is a true live-work operation and has been featured in several local publications. Operation New Birmingham is credited with helping to bring this new business to downtown Birmingham. Jimmy and Sue had the following to say, "We are happy to report the past years of business downtown has been successful! We want to thank all of our loyal customers, the City of Birmingham, Operation New Birmingham, Regions Bank, Community Partners, friends, family and our loving dogs, Taylor, Charlie, and Stevie for all of their support over the past 6 years. We truly feel our jobs are a labor of love and we look forward to getting up every morning to greet the smiling faces that come in our doors and spend the nights with us."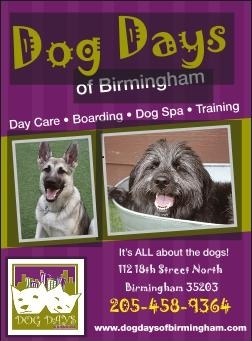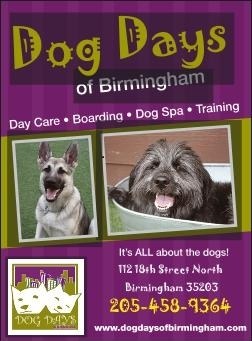 Sue is the CEO for Big Brothers Big Sisters and has been successful in combining the world of dogs and children together through several local partnerships. In April of 2011 Dog Days of Birmingham hosted the first annual Children's Mutt Show benefiting the Greater Birmingham Humane Society, Hand-In-Paw, and Big Brothers Big Sisters.  Recently Dog Days of Birmingham hosted a 12 Week Program for children in the Big Brothers Big Sisters that was facilitated by Hand-in-Paw's Pawsitive Living program.
Dog Days of Birmingham was the brainchild of owner Jimmy Johnson, who after 18 years in the Corporate World working for a Software developer was laid off in 2009 during the "great recession". Jimmy then decided to pursue another dream of owning his own business and working with dogs.  Jimmy knows each dog customer by name and is usually on hand to greet them each morning when they walk in the door.   All of the human and canine customers who come in the doors always have the nicest things to say about "Mr. Jimmy."
Again, Dog Days of Birmingham would like to express their deepest appreciation for the support from the Birmingham community.